Personal ProTection Products
Exam Gloves
Glove Box Holders
Hand Sanitizers
ProTection Apparel
Pre-Packaged Personal Protection Kits
Environmental
ProTection
Products
Solutions
Waste Bags & Accessories
Sharps Containers & Accessories
Medication Disposal Containers
Biohazard Spill Kits & Accessories
Respiratory Hygiene Stations
CaviCide® Surface Disinfectant Towelettes
Surface Disinfectant | Instrument Disinfectant | Hand Soaps


CaviWipes® Disinfectant
Towelette Canister
Effective against viruses, bacteria and fungi
3 Minute or Less Kill Time means CaviWipes® WILL kill pathogens BEFORE IT AIR DRIES!
Convenient and ready to use
Stays fully saturated with high fluid capacity
Gentle on sensitive equipment
Superior surface contact since the durable, nonwoven towels won't bunch up during use
Ideal for nonporous surfaces: infant incubators, care cribs, anesthesia machines and respiratory equipment, lab equipment, ambulance equipment, tables, chairs, countertops, eyeglasses and telephones
Product: CaviWipes® Disinfectant Towelette Canister
Item #: MACW078100
Dimensions: each wipe measures 6" x 6.75"
Quantity: 160 wipes/can, 12 can/cs
Product: CaviWipes® Disinfectant XL Towelette Canister
Item #: MACW078150
Dimensions: each wipe measures 10" x 12"
Quantity: 160 wipes/can, 12 can/cs
---
CaviWipes FlatPack
CaviWipes Flatpackcan stick WHERE you need it, so you have it WHEN you need it! CaviWipes FlatPack can stick onto carts, beds, trays - anywhere it's needed for maximum convenience Resealable package sticks onto beds, carts, trays - anywhere you need the power of CaviCide in a wipe!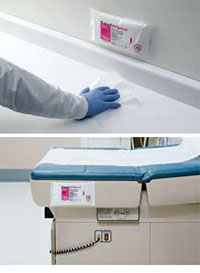 3 Minute or Less Kill Time means CaviWipes® WILL kill pathogens BEFORE AIR DRYING!
Effective against viruses, bacteria and fung
Convenient and ready to use
Easy-open, resealable patented flip top for easy dispensing
Adhesive strips on back of package allows for sticking on metal cabinets, trays, wheelchairs, cards, counter, or ANYWHERE YOU NEED A SURFACE DISINFECTANT!
Stays fully saturated with high fluid capacity
Gentle on sensitive equipment
Superior surface contact since the durable, nonwoven towels won't bunch up during use
Ideal for nonporous surfaces: infant incubators, care cribs, anesthesia machines and respiratory equipment, lab equipment, ambulance equipment, tables, chairs, countertops, eyeglasses and telephones
Wipe size: 7" x 9"
Item #: MACW078224
Quantity: 45 wipes/pk, 20 pk/cs
---
CaviWipesXL® Individual Disinfectant Towelette Packets
3 Minute or Less Kill Time means CaviWipes® WILL kill pathogens BEFORE AIR DRYING!
Effective against viruses, bacteria and fungi
Convenient and ready to use
Stays fully saturated with high fluid capacity
Gentle on sensitive equipment
Superior surface contact since the durable, nonwoven towels won't bunch up during use
Ideal for nonporous surfaces: infant incubators, care cribs, anesthesia machines and respiratory equipment, lab equipment, ambulance equipment, tables, chairs, countertops, eyeglasses and telephones
Item #: MACW078155
Each wipe measures 10 " x 12"
Quantity: 50 ea/bx, 6 bx/cs