High Level Instrument Disinfectants and Sterilants
Surface Disinfectant | Instrument Disinfectant | Hand Soaps


MetriCide OPA Plus High-Level Disinfectant 1 Gallon Bottle
Ortho-phthalaldehyde (OPA) based high-level disinfectant that provides a broad spectrum of protection against many microbials including TB, Hepatitis A, Hepatitis B, HIV-1 and Poliovirus Type 1.
Fast, effective, value alternative to other OPA brands - provides up to 40% more reprocessing cycles in an automatic endoscope reprocessor (AER) and has .05% more active ingredient
Fast acting! Disinfects in 5 minutes at 25°C in an AER; 12 minutes at 20°C in manual reprocessing
Ready to Use! No mixing or activation
Increased productivity! Improves device turnaround time and reduces reprocessing costs
Gentle! Tested compatible with common endoscopes and a wide variety of materials
Long lasting! Up to 14-day reuse life when monitored with test strips
2 year shelf life and 75-day open bottle shelf life
No harsh smell, unlike glutaraldehydes
Faster test strip development! 60 seconds versus 90 seconds for other brands, with easier-to-read pass/fail distinctions (magenta/yellow) than other brands (purple/blue)
Product: MetriCide OPA Plus, 1 Gallon Bottle
Item #: MOPA078000
Quantity: 4 btls/cs
Product: MetriCide OPA Plus Solution Test Strips
Item #: MOPA078602
Quantity: 100 strips/bottle, 2 btls/cs
Click here to see how to use MetriCide OPA Plus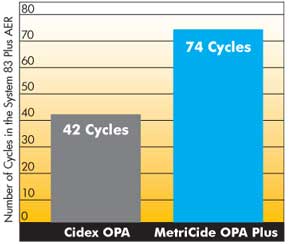 MetriCide OPA Plus outperformed Cidex OPA in a reuse stability study, performing 32 more reprocessing cycles when used in an automated endoscopic reprocessor.
---
MetriCide 28 High-Level
Disinfectant and Sterilant
Can Be Used and Re-Used for up to 28 Days
The MetriCide® family of glutaraldehydes has more than a 15-year history of excellence. MetriCide® is a tried and true formula that is proven effective and safe.
MetriCide®28 is a 2.5% buffered glutaraldehyde that can be used and reused as a sterilant and high-level disinfectant on immersible, heat-sensitive and delicate instruments and equipment for up to 28 days.
Contains a surfactant
No dilution required
Long life, activated dialdehyde solution (comes with activation solution bottle)
Product: MetriCide28, 1 Quart
Item #: MQMC078805
Quantity: 16 ea/cs
Product: MetriCide28, 1 gallon
Item #: MGMC078800
Quantity: 4 blts/cs
---
ProCide-D® High-Level Instrument Disinfectant and Sterilant
Effective Against Spores, Bacteria and Viruses.
2.5% glutaraldehyde solution with activator (in small bottle)
Can be used up to 28 days
Test activated solution with a 1.8% glutaraldehyde test strip
Ideal for immersion sterilization and high-level disinfection of anesthesia equipment, respiratory therapy equipment, metallic equipment or instruments, rubber objects, plastic objects and thermometers
Sterilizes with 10 hour immersion time at 25° C
High-level disinfection with 90 minute immersion time at 25°C
Same product as MetriCide 28
Effective Against:
Spores (10 hours)
Bacillus subtilis
Costridium sporogenes
Tuberculosis Mycobacterium bovis (90 minutes)
Bacteria and Fungi (10 minutes)
Staphylococcus aureus
Pseudomonas aeruginosa
Salmonella cholerasuis
Trichophyton mentagrophytes
Viruses (10 minutes)
Cytomegalovirus
Respiratory Syncytial virus
Rhinovirus
Rotavirus SA-11
Vaccinia virus
Influenza A2HK
Adenovirus
Poliovirus 1 and 2
CoxsackievirusB5a
Herpes Simplex 1 and 2
HIV-1
Product: 1 Quart Bottle, ProCide-D 28 Day
Sterilant/ Disinfectant with Activator
Item #: MPGS078329
Quantity: 16 ea/cs
Product: 1 Gallon Bottle, ProCide-D 28 Day
Sterilant/ Disinfectant with Activator
Item #: MPGS078289
Quantity: 4 ea/cs