OSHA Compliance Products
OPTI-SAFE™
Safety Compliance Labels
Compliance
Training Materials
OSHA Manuals
(To meet up-to-date compliance requirements, please contact us for additional details regarding OSHA Training Materials and OSHA Manuals.)
Facility Setup Products
Portable Grab Bars
Indicator Room Flags
Room Status Signals
Security Lock Kit
CareTek
Workplace Remedies
TotalSource
Filing & Office Products
Technology Solutions
Office Furniture
Janitorial & Sanitation Supplies
Breakroom & First Aid Supplies
Warehouse & Packaging Supplies
Safety & Security Supplies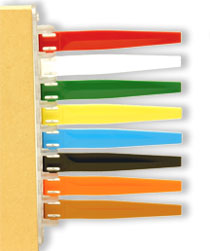 Room Status Signals
Primary Colors
Room Status Signals are available in 2, 4, 6, or 8 flag combinations
Each flag moves independently and stops in five positions
Easy mounting with 2 screws included in each package
Item #s:
2-Flag Primary: I2PF169432
4-Flag Primary: I4PF169434
6-Flag Primary: I6PF169436
8-Flag Primary: I8PF169438
Quantity: 1 flag set/bag
---
Contemporary Colors
Item #'s:
2-Flag Comtemporary: I2CF169774
4-Flag Comtemporary: I4CF169774
6-Flag Comtemporary: I6CF169774
8-Flag Comtemporary: I8CF169774
Quantity: 1 flag set/bag
---
Progressive Colors
Item #'s:
2-Flag Progressive: I2PG169992
4-Flag Progressive: I4PG169994
6-Flag Progressive: I6PG169996
8-Flag Progressive:
Quantity: 1 flag set/bag
---
CUSTOM Room Status Signals
CUSTOM ROOM STATUS OPTIONS ALSO AVAILABLE! You choose the color and color order of the flags!
Offers you more choices for designating the status of each room
You can pick your colors and arrange them in the order that you desire
Easy assembly instructions come with each custom order allowing you to pick the color sequence that best fits your office needs
Please be sure to specify your color choice when ordering
Item #s:
CUSTOM 2-Flag: CFID169002
CUSTOM 4-Flag: CFID169004
CUSTOM 6-Flag: CFID169006
CUSTOM 8-Flag: CFID169008
Quantity: 1 flag set/bag
Specify colors and color order at the time of order. Please note that custom flags cannot be returned.