OSHA Compliance Products
OPTI-SAFE™
Safety Compliance Labels
Compliance
Training Materials
OSHA Manuals
(To meet up-to-date compliance requirements, please contact us for additional details regarding OSHA Training Materials and OSHA Manuals.)
Facility Setup Products
Portable Grab Bars
Indicator Room Flags
Room Status Signals
Security Lock Kit
CareTek
Workplace Remedies
TotalSource
Filing & Office Products
Technology Solutions
Office Furniture
Janitorial & Sanitation Supplies
Breakroom & First Aid Supplies
Warehouse & Packaging Supplies
Safety & Security Supplies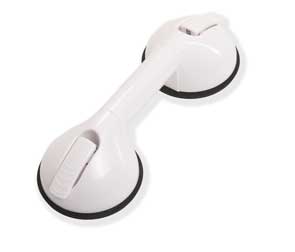 Portable Grab Bars
Won't Damage or Deface Shower Walls or Tubs
Tested and approved by health professionals, including orthopedic surgeons and occupational therapists
Designed for safety, flexibility and appearance
Quick and easy to install and remove without tools or professional installation
Durable commercial grade, vulcanized rubber suction cups, 4.7" diameter
Capable of up to 200 lbs pull strength
Heavy duty yet stylish for any decor
Limited lifetime warranty
Patent pending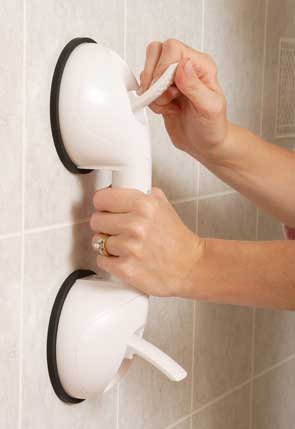 Easy to install and remove! To install, just position the grab bar and flip down the two locking tabs! Tabs flip up for removal.
Perfect for use on smooth, flat, non-porous surfaces, including:
Fiberglass tub and shower surrounds
Acrylic tub and shower surrounds
Glazed tiles (5" minimum)
Porcelain
Ceramic
Corian
Cultured Marble
Glass
Will not damage tub and shower surrounds. For use on tile, tiles should be at least 5" and in good condition. The Portable Grab Bar should not overlap grout lines.
---
Single Grip Portable Grab Bar
Water-resistant - will not rust
13" total length * 4" hand hold length
Perfect for travel!
Item #: PGBS154201
Quantity: 1 ea/bx
---
Telescoping Grip Adjustable length
Allows for a much longer hand holding area
9" - 19" hand hold length
Disassembles for easy packing when traveling
Medium Length Telescoping Grip Portable Grab Bar
Item #: PGBT1545MD
Quantity: 1 ea/bx
Dimensions: 19" - 24" length
Large Length Telescoping Grip Portable Grab Bar
Item #: PGBT1545LG
Quantity: 1 ea/bx
Dimensions: 24 " - 29" length
---
Telescoping Pivot Grip
Both ends pivot! Allows for endless installation options:

across a corner
inside a bathtub
across unparallel surfaces

Water-resistant - will not rust
Telescoping, adjustable length allows for a much longer hand holding area
9" - 19" hand hold length
Disassembles for easy packing when traveling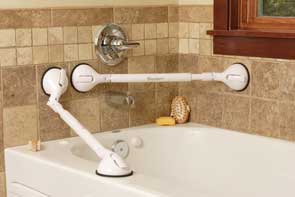 Medium Length Telescoping Pivot Grip Portable Grab Bar
Item #: PGBP1544MD
Quantity: 1 ea/bx
Dimensions: 22" - 27" length
Large Length Telescoping Pivot Grip Portable Grab Bar
Item #: PGBP1544LG
Quantity: 1 ea/bx
Dimensions: 27" - 32" length